If you're planning to go hiking this winter, you can't miss a pair of excellent snowshoes.
FunWater Lightweight Snowshoes with Carrying Tote Bag and TrekkingPoles.
Easy to Wear Aluminum Alloy Snowshoes for Women Men Youth Kids,Size 21''/25''/30''.
Meet all your expectations for equipment.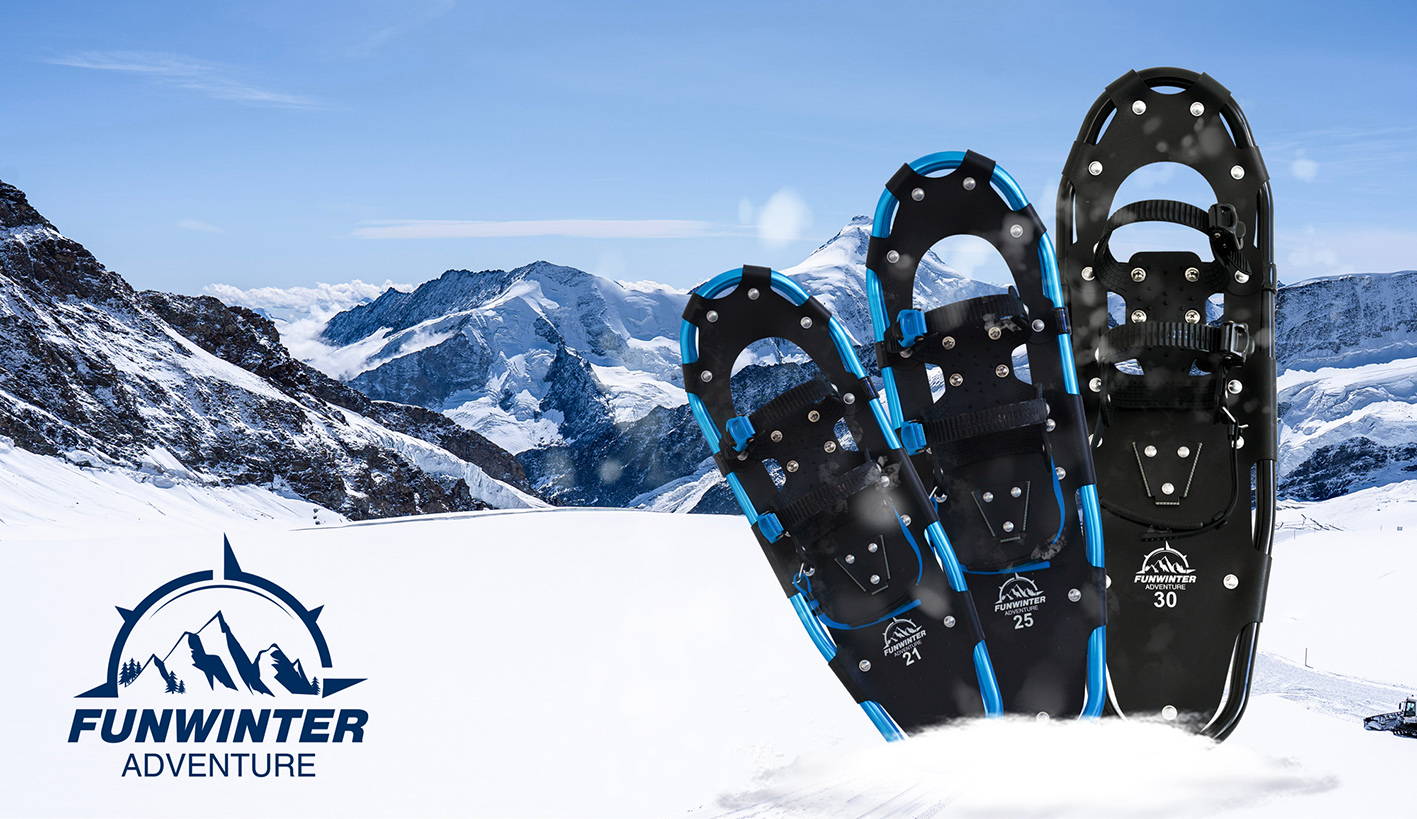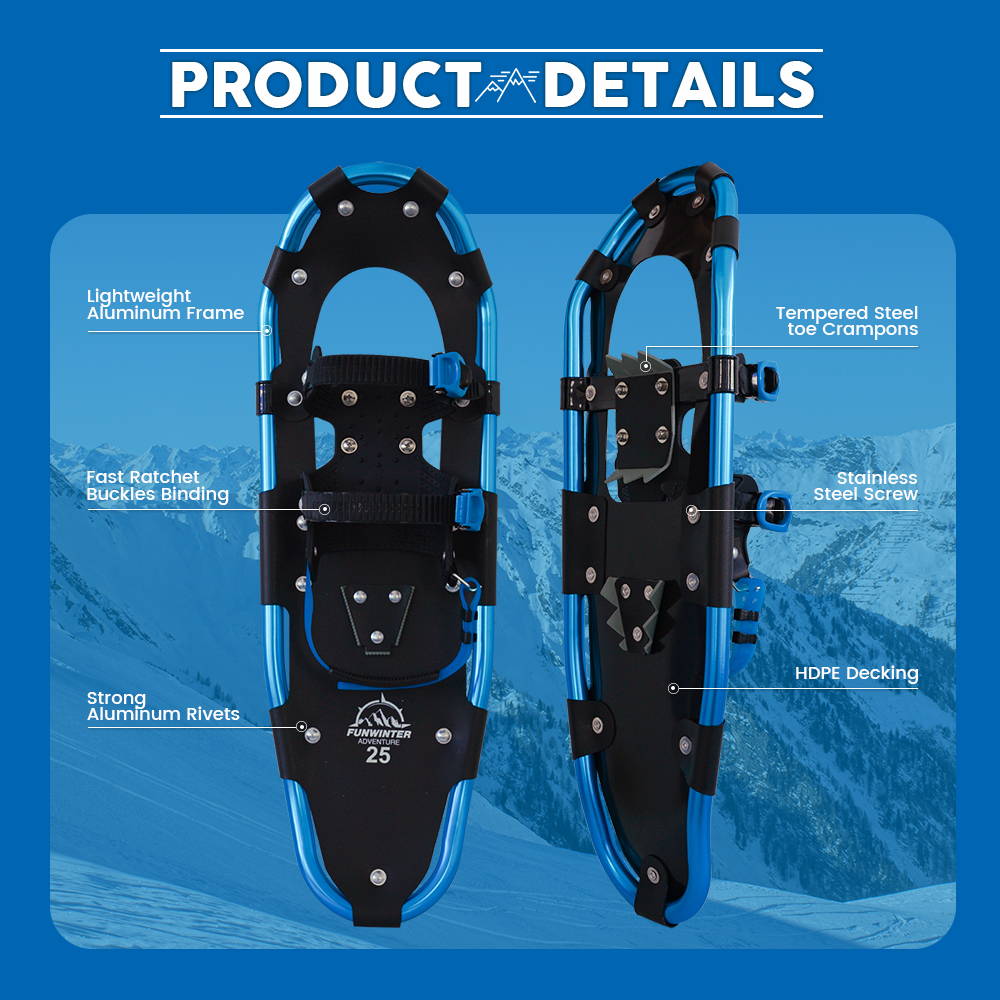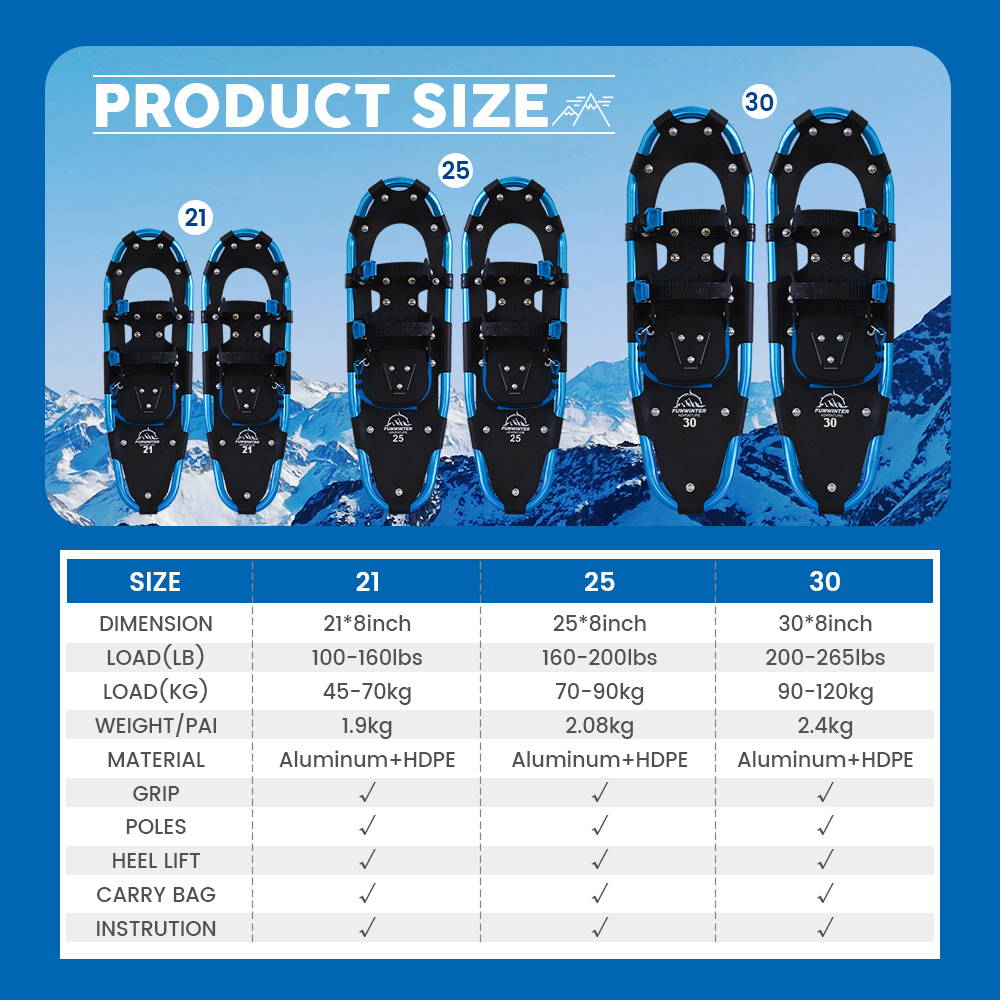 ⛄A pair of snowshoes,

⛄A pair of 2-part, adjustable snowshoe poles.

⛄A snowshoe tote bag.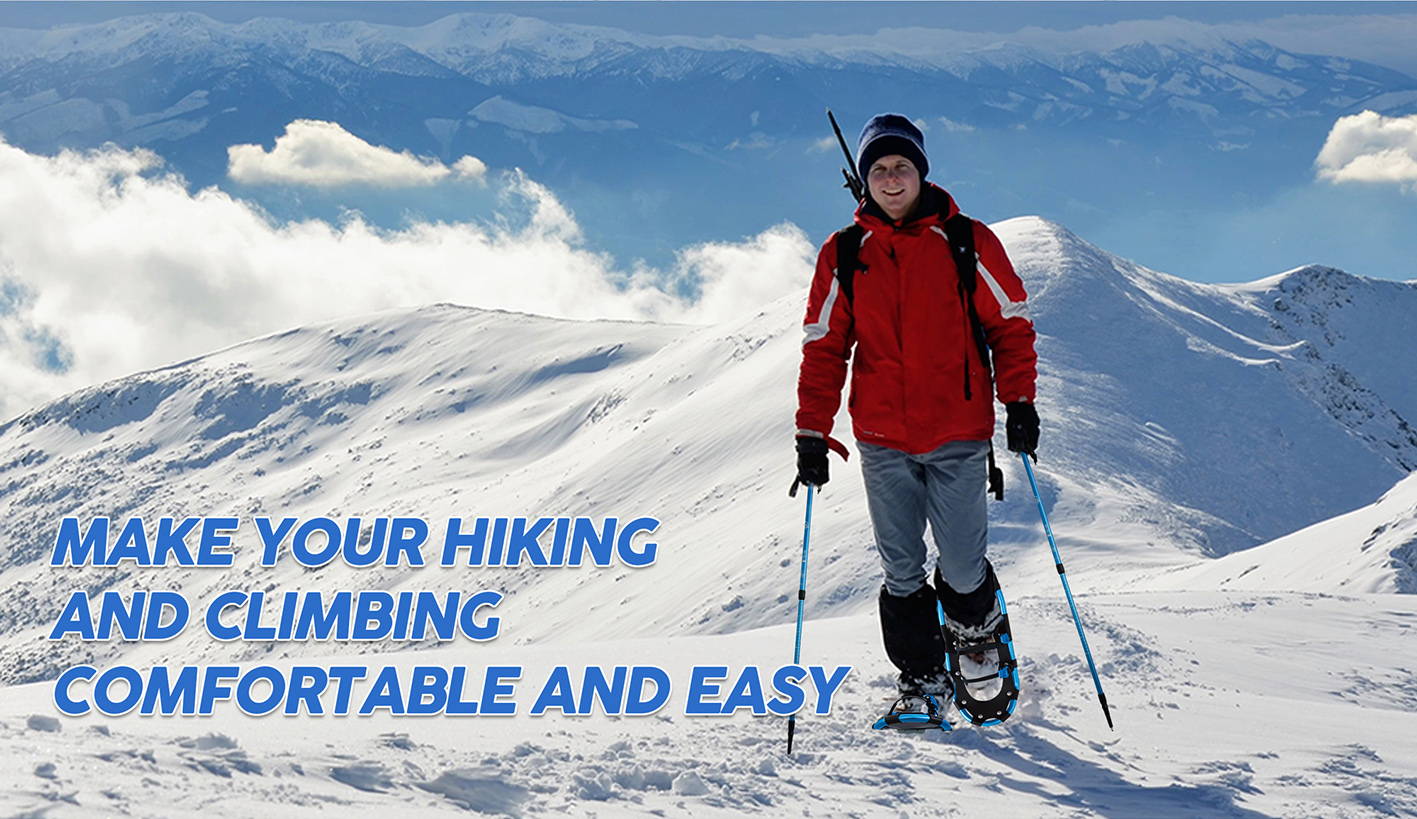 ⛄G2 snowshoes used high quality & lightweight HDPE as its deck.

⛄Improved Crampons This sharp crampons is made of high quality aluminum.

⛄Double ratcheting bindings easily adjust to most footwear and enable a secure fit for maximum efficiency during outdoor treks.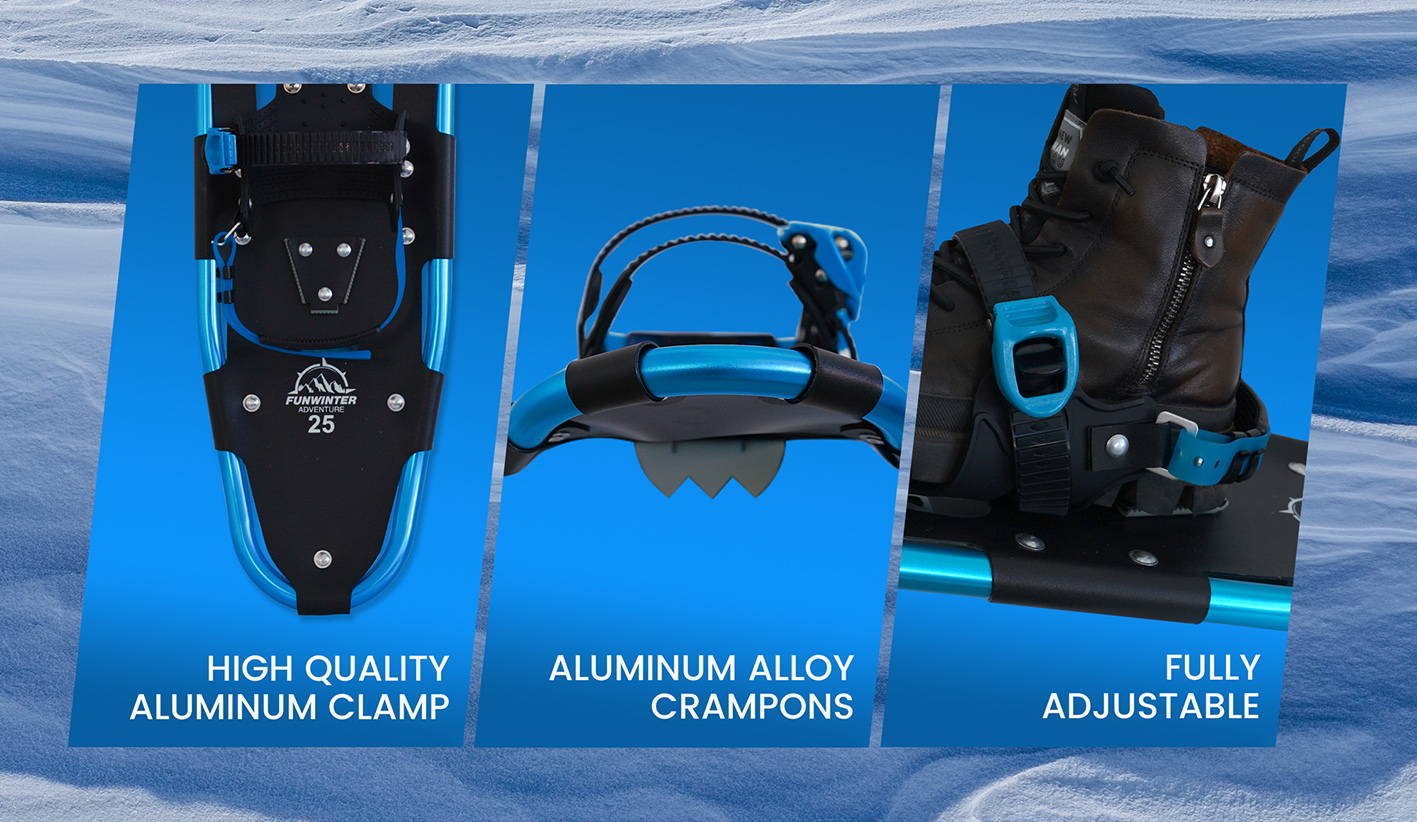 ⛄ It's easy to put on and take off your winter boots with the fast pull binding buckles.The heel bindings allow you climb hills easily and comfortably

⛄Adjustable Treeking Poles: Easily changing the height of these telescoping poles from 24.8 to 53.9 inches is a breeze even when you're wearing gloves or trekking in wet conditions.
Very well made
These are great. Perfect addition to my ice fishing setup. Easy to put on, and helps spread my weight on deep snow and questionable ice crossings. I really like the included poles as well as sometime you want to poke around in the snow first to keep from stepping on smaller trees and slush under snow cover. Light and functional. Great stuff
Great set, everything you need
This is a great set, easy to put on and so much fun. Get outside this winter and trek! Perfect set for getting off the trail
Excellent snow shoe kit!
This is a great entry level kit on par and comparable price to others out there on the market. The kit includes the snow shows, poles and a convenient carry bag.
The snow shoes themselves are very well made and look the business. Both the heel and toe have a solid steel cleat to give great traction. The front is actually bolted on to the shoe with nylock nuts and bolts. Very sturdy. The shoe attaches to your foot with 3 straps. The two that go over your foot have a very nice ratchet type buckles which is great for tightening up for a solid fit. The heel strap is the typical rubber with pronged buckle.
The poles I feel are them gems of this kit and really are quite nice and the construction is very well executed. First off they have replaceable tips should you ever wear them out. There are a set of caps for the ends so you can use these even as walking poles in the warmer weather, then remove the caps to expose the pointed tip for the winter. They also came with baskets for the end of the poles that actually thread on to the pole. Initially I thought they would just slide on but when I went to install them I discovered the threads. Very nice detail. The pole collapses or extends at 2 twist lock joints along the length and has gradations indicated on the side so you can find and remember your perfect fit. Here I also noticed a marking on the side that said "Antishock". What this feature does is allow some small amount of compression in the pole when pressure is applied. Basically a built in shock absorber. This is really nice when you accidentally hit a rock or other hard surface when you don't expect to. The grips feel nice in the hand and the straps are long enough to fit over any size hand and glove combination.
The carry bag is a nice touch and keeps everything together along with a set of clips that keep the poles aligned and together.
Overall and excellent kit that can go toe to toe with any others on the market.